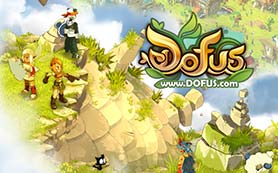 | | |
| --- | --- |
| Graphics | |
| Fun Factor | |
| Handling | |
| Community | |
DOFUS – The most successful MMORPG of all time!
Fantasy MMORPG – It's hard to believe but it's true! The free-to-play fantasy MMORPG Dofus has been played by an unbelievable 2.5 million people around the world. Released in 2004 by Ankama Games, the game has inspired people from around the world and has even paved the way for an equally successful manga series, a TV show, and several goodies and soundtracks. But what are the reasons for its unbelievable popularity? Read on to find out…
Official DOFUS Trailer
Game Description
You really have the burden of choice playing the free-to-play fantasy MMORPG Dofus. Individuality and the possibility to pave your own unique path are the primary pillars of the game. You'll face countless adventures along the way, as you search for the six stolen dragon eggs of Dofus. Below are some of the features that we thought were particularly influential in making Dofus one of the most beloved MMORPGS on the market.
Giant Class Selection:
In Dofus, you have a large selection of characters to choose from, each one playable either as a male or female and kitted out with different strengths. For example, alongside the traditional classes of the Warrior, Healer, Archer and Mage, you'll have classes such as the Treasure Hunter, who rob opponents of their loot, Summoners, who summon animals to help them in battle or Warrior Gamblers, whose attack strength is all based on chance. In total there are 16 different classes to choose from and you can change the colour of your character to ensure they remain unique.
Open Skill System:
In addition, there are 8 different characteristics which influence the fighting and attack prowess of your character. These can be upgraded as you complete quests and level up. These characteristics are sorted into elements (earth, fire, water..) each with their own effects. So for example, if you upgrade your vitality characteristic, you'll increase your amount of Health Points, whereas if you choose the Wisdom characteristic, you'll increase your chances of leveling up. A particularly great feature of Dofus is that you have free choice as to which characteristic you want to level, even though each class has their own pre-assigned characteristic associated with them.
Combat System:
A central focus in Dofus, like in other MMORPGs, is of course the combat. The combat system in Dofus is turn-based and you can enter into battle against NPCs as well as other players. Each battle takes place on a grid-like battlefield and during your turn, you'll be able to move forward based on the number of movement points you have at disposal. In order to attack, you will use your action points available, which can then be spent on individual commands. In addition, ou can join a guild, and together fight other guilds which are grouped in Alliances.
Professions:
As if the big selection of classes wasn't enough, you also have the possibility to learn a profession in order to earn kamas, the in-game currency. Following on from tradition, the list here is extensive,
allowing you to choose between a total of 33 different professions. For example, you can become an Alchemist, Smith, Farmer, Fisherman, Woodcutter, Baker or Peasant. These professions can be split into two main categories. Those that focus on crafting and those that focus on gathering specific resources that can then in turn be used by other players to produce useable items.
Special Features
Huge Class Selection: Choose between 16 different classes and colour your character to your own unique tastes
Characteristics: Choose characteristics sorted into elements, either based on the compatibility of your class or purely on what you want
Battles and Ethos: Enter exciting battles and choose an ethos for the chance to attack even more opponents and develop your character in the process
Guilds: Join a guild and fight alongside your comrades against other players and guilds
Professions: Decide between 33 diverse professions to collect materials, craft items and trade for money
Quests: Complete quests to skill up your character skills and find all the Dofus
Word Games: Read between the lines and discover that character names may be more than they seem. Tip: Give reading them backwards a go and try not to laugh
The Bottom Line
What's left for us to say? The free-to-play fantasy MMORPG Dofus simply is and remains one of the best MMORPGs that there is and justifiably so. The big focus on individuality which gives you the feeling that you're creating something unique is one of the main reasons for this accolade. Dofus is an exciting game, lovingly crafted and ensuring a high level of diversity. All this means that boredom is now a thing of the past. Here's to the next ten years!