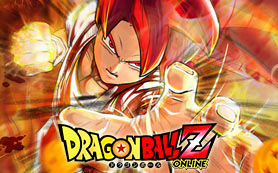 | | |
| --- | --- |
| Graphics | |
| Fun Factor | |
| Handling | |
| Community | |
Dragon Ball Z – Swift and explosive!
Dragon ball browser game – Here's a highlight for all Dragon Ball fans!  The free browser game 'Dragon Ball Z' draws players in the world of Son Goku, Vegeta and Co.! As aspiring would-be supersoldier you have to make your contribution to the battle for the world. Read on to find out what's waiting for you in Dragon Ball Z!
Official trailer Dragon Ball Z
The game principle of Dragon Ball Z
Dragon Ball Z brings the world-famous anime to your home browser. Here you can create your own Z-warrior and become a part of the epic battles of Dragon Ball. Before you can start on your search for the Dragon Ball you must first create a free account! The next step is creating a character. Anime fans will recognize a lot of familiar faces from the beginning! Bulma will you give you your first tasks, and the old Roshi always has a lunchbox ready! This way, Dragon Ball Z will exude a great atmosphere from the first minute. We're old fans of the TV series, and we love the game!
Your own Z-warrior:
In Dragon Ball Z you can create the warrior of your dreams. You have a lot of choices, and you can even go for the legendary Saiyajins! If you decide to do that, you belong to the most dangerous fighters in the galaxy. Some famous Saiyajins are, for example, Vegeta and Son Goku! But those who don't particularly like the heroes of the anime series can also go with a cyborg. Cyborgs are warriors you shouldn't underestimate, and they have a lot of endurance. You can also go for the demonic Majin, who the super rogue Boo belonged to! So you can choose a character from the most powerful warriors in the universe.
An exciting story:
After you've chosen your character you can begin the story of Dragon Ball Z. As aspiring warrior of Earth you must first train hard! Therefore, you'll first be sent to fight monkeys. But a few monkeys surely won't be able to stop you, so you'll soon see harder challenges coming your way, such as the evil Prince Pilaf and his minions! What's also cool is that you'll have to prove yourself against some the anime heroes. How about a little sparring with Yamchu, for example?
Fast fighting system
There's no place for boredom or dragging in a game like Dragon Ball Z! Luckily in this browser game the fights are incredibly fast and full of cool special attacks. Usually you exchange swift blows with your opponents, or you focus your entire energy in powerful KI attacks! Another wonderful thing about this game is the great diversity in matters of fighting style and characters. For example, Yamchu uses his famous wolf technique, while Son Goku relies on the skills of the Turtle King!
Team fights and equipment:
It was always the biggest challenges that brought together the heroes of Dragon Ball Z. Heroes allied with each other in order to find the Dragon Balls as well as to fight threats from the Universe on the Earth. In this browser game you won't have to go through training alone either, and you'll be able to count on back-up in fights against villains! Before the fights you can choose a kind of "battle formation" and decide who takes the first line and the most blows. Successful fights will also bring you equipment items such as weapons or combat gear!
Features of Dragon Ball Z
Completely free:

Just create an account and go with your Saiyajin on epic battles! And it's free!

Your own Z-warrior

: If you don't want to play a Saiyajin you can always go for other characters such as the powerful cyborgs.  

An exciting story

: Visit places from the anime, such as the island of the Turtle King!

Fast fighting system

: Fast-paced fights and swift exchange of blows that will totally grip you!

Team fights and equipment

: Fight with Yamchu, Bulma and Co. against all those who threaten the Earth, such as Prince Pilaf!
Conclusions about Dragon Ball Z
The free browser game Dragon Ball Z is a must for all fans of Son Goku and Co.! The possibility of creating our own fighter was very attractive to us. This way, you can visit the scenes of Dragon Ball with your character, and even fight famous characters. The fighting system is very fast, and you can even use the devastating KI attacks such as the Kame-Hame-Ha! Dragon Ball Z is a whole lot of fun, and it's definitely a browser game that even those who weren't among the fans of the series should check out!