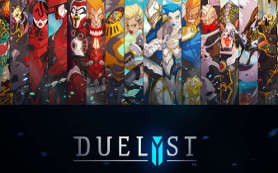 | | |
| --- | --- |
| Graphics | |
| Fun Factor | |
| Handling | |
| Community | |
Duelyst – Potentially the best Card Game that we've reviewed this year
Fantasy Card Game – These past years have been great for fans of collectible card games (CCG). Dozens of new titles popped up on an almost monthly basis, introducing new features and other little gimmicks for an ever-growing community of fans of the CCG-genre. One of the most promising games among those titles is Duelyst, a free to play Fantasy Card Game that can easily be counted as one of the best within its genre. Why? Here is why.
Official Duelyst Trailer
Game Concept
Duelyst is a collectible card game in its core that has been combined with quite a few elements from the turn-based combat genre. As for the ccg features, you are starting out with a deck of cards that you prepared before the match started, drawing a single card each turn. Each card has a given amount of mana costs which is subtracted from your mana pool when you put the card from your hand into the game. Untypical for a ccg is the addition of a battlefield where you get to control the behavior of the card you just played. You take control over the creatures you brought into combat, therefore adding a complete new layer of depth to the game.
Countless cards and factions to choose from:
Should you have played Hearthstone and similar games already then Duelyst will provide a few familiar features for you. You get to choose from six different factions and each of these factions has two different generals with unique abilities that they bring into battle. Obviously all these factions have unique cards with special abilities that you could collect in order to create a perfect deck for your upcoming matches. The numbers of cards Duelyst provides is immense and even casual players will find themselves relatively quickly in a position where they get their hands on some of the more powerful creatures and spells.
A new layer of depth:
Potentially the biggest feature about Duelyst though is the addition of turn-based combat. In other ccg games you simply put a card on a table and that's about it. The effect from the given card comes into play, maybe you see some numbers pop up but that's about it. In Duelyst you get to control the creatures you bring into play. Place your minions and generals carefully on the battleground and manually target their specific abilities on your foe. This way a bad draw can be compensated with a well-played strategy on the checkered battlefield board. Use taunts, bombards and countless gimmicks to maximize the effect of your cards and turn the tide of battle in your favor.
Amazing visuals and effects:
We almost immediately fell in love with the detailed art style of Duelyst. The pixelart of this game is simply outstanding. Each unit has its own animations, abilities and special effects, resulting in battlefields that haven't felt such vibrant in any comparable game. Usually we are simply staring at cards with numbers that poke at each other but actually controlling a proper representation of "that mighty card we just played" is something entirely different and potentially one of the most dominant reasons we immediately got hooked up with Duelyst.
Special Features
Free-to-play Fantasy Card Game: Just sign up once and you are good to go. Duelyst is absolutely free-to-play.
Six factions and countless collectible cards: Choose between six unique factions, each one providing another two unique generals and dozens of collectible cards to forge your own deck.
A new layer of depth: Take full control over the cards you brought into the battlefield and take on your foes in turn-based combat.
Amazing visuals and art style: Detailed pixel art with each card being fully animated adds a whole new layer of immersion to Duelyst.
The Bottom Line
What can we say? Duelyst is an amazing game. Honestly, we have played our fair share of collectible card games these past years and while of some of them were better than others, none of them has been like Duelyst. Aside from the features this game shares with its competitors, it is the fact that you can actually control what each of your cards does on the battlefield that kept us playing and playing. Combining this with the appealing art style of Duelyst and the pretty lenient learning curve for beginners, leaves us nothing but to highly recommend this game to anyone who is either tired of similar titles or is looking for a free to play game that will get him hooked up in the ccg genre.