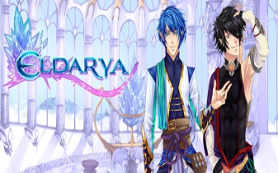 | | |
| --- | --- |
| Graphics | |
| Fun Factor | |
| Handling | |
| Community | |
Eldarya – Adventure in episodes!
Fantasy/Anime browser game – Eldarya surprised us as a really different browser game! This free fantasy game is set in a magical world in which you play an important part in the story through your decisions. Read on to find out what to expect of this game.
Official trailer Eldarya
The game principle Eldarya
The free browser game Eldarya is not your every day browser game. The main focus here is experiencing the excellent story and creating relationships with the characters in this world. Your journey begins in the dark forest, where you stumble over a mysterious sort of mushrooms. Before you can figure out what's happening you find yourself in a foreign world where you get thrown in jail! Here you meet many characters, and your story changes according to your actions and decisions. Besides the cool story you can collect different outfits in order to keep your protagonist making an impression. And who knows – maybe you'll even meet the man of your dreams along the way, because Eldarya isn't only about adventure. It's also about love!
Story unfolds in episodes:
The plot in Eldarya is connected, but given to you in episodes. You can fulfil your mission in each episode and, depending on how you did, you can expect different ways in which it will end. This freedom of playing a part in how the story unfolds was really something for us! Once you've successfully fulfilled the mission in an episode you'll be rewarded with a piece of art. You'll collect these pieces of art as souvenirs from your biggest adventure. Besides this art you'll also get maana and coins, currencies that can help you manufacture many useful things!
Find your look:
Eldarya isn't only about mastering adventure and danger, but also about looking good. You're completely free to choose the outfit that your heroine will be wearing when she starts on her journey. You can keep changing outfits as you go along in the game, and you have the possibility of unlocking new and special pieces of clothing. Once you unlocked one, it stays forever in your inventory – so you don't have to acquire anything twice, you can just keep expanding.
Wonderful anime style:
If you're a fan of the anime style, you'll love Eldarya. The game presents itself in a harmonious, Asian-style 2D interface teeming with colourful, crazy characters. Crazy guys with horns growing out of their foreheads or with cat ears are a normal sight in this game! Get ready to dive into the great atmosphere of Eldarya, and have a fantastic time.
A lively forum:
There's truly a lot to discover in Eldarya, and no story is like the other because, like we already mentioned, you play an important role in how things develop in your own story. If you're curious how other players design their journey you can stop by the wonderful forums of Eldarya. Here people talk about the most recent stories, and you can also see what styles they chose for their heroines. You wouldn't want to miss the newest trends now, would you?
Features of Eldarya
Free of charge: Create a free account easily, and start on an epic journey through the world of Eldarya!
Story in episodes: The epic story of Eldarya is told in over ten unique episodes, each episode with awesome rewards!
Find your look: Master your adventure with style! There are many outfits you can unlock in order to make your heroine look cool.
Wonderful anime style: Fans of Far East anime will be ecstatic to see the graphics of Eldarya – a fantastical world.
A lively forum: Exchange tips and tricks in the forum of Eldarya, and find out how others designed their stories!
Conclusions about Eldarya
Even though on first sight the browser game "Eldarya" by Beemove may seem like a game for female players, boys can definitely have their fun, too. The story is wonderfully told, and we really enjoyed being able to influence the story with our decisions! In matters of visuals the game also makes an impression – the style is harmoniously implemented. Live out the many episodes of this great story, and maybe your heroine will even find the man of her dreams!