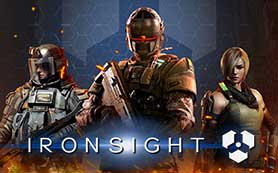 | | |
| --- | --- |
| Graphics | |
| Fun Factor | |
| Handling | |
| Community | |
Iron Sight – Fresh wind in the shooter genre!
MMO/First-Person-Shooter – Today we got our hands on a real blockbuster for all fans of exciting first-person shooter battles! The free 'Iron Sight' by Gamigo Games knocked our socks off. So load your weapons, grab enough grenades, and come along on a journey in Iron Sight!
Official trailer Iron Sight
The game principle of Iron Sight
It must be mentioned from the start that the free Iron Sight is first of all a first person shooter! This means that you can enjoy firearm fights and heated action. Just like in genre classics such as Counter-Strike or Battlefield, in Iron Sight you'll be fighting in teams. There are different play modes ensuring diversity over a long period of time. But besides the great game mechanisms, Iron Sight also offers a great backstory. The setting is a dystopian version of the future Earth. It's the year 2025, which has brought with it many cool futuristic technologies—unfortunately though, the resources of the Earth are almost depleted. The result is a bitter fight between two factions: on the one side you have the North Atlantic Forces, and on the other side you have the Energy Development Enterprise Network. So pick your side and help them emerge victorious!
Fantastic visuals:
Iron Sight isn't only great gameplay, but it also looks fantastic. Everything from map design to weapons and characters is eye candy. Good visuals are generally necessary in order to stand out among the competition. But if don't have a state-of-the-art PC, no problem, because Iron Sight really doesn't need high-end technology for its graphic representation. So we get fantastic graphics without high demands—what more can a gamer wish for?
Huge choice of weapons:
Besides good graphics, weapons are also a main element for a shooter. Iron Sight offers a gigantic weapons arsenal! There are over 100 different weapons, all of which have their own advantages and disadvantages. Sniper guns, shotguns, assault rifles and handguns are the more obvious options. A very special feature of Iron Sight is the existence of multifunctional drones! These can scout enemies, and later even attack them. So keep your eyes on the sky!
Beauty for your game avatar:
For today's gaming community visual upgrades for game characters are almost a must-have. So, in time, in Iron Sight you can get new outfits, emotes or special gear. These visual gimmicks don't influence the game directly, but they do give players more opportunity of identifying with the avatar. So you can not only become the best player, but also look almost illegally good!
Fights around the world:
The surroundings of the game scenes in Iron Sight are at least as diverse as the weapons. Whether cold winter region, burning desert sand or urban settings—you'll feel like you can't look at them enough. What's especially cool is that every map has its own weather conditions, and you'll get from rain to sand storms to blizzards. As classic player-versus-player, not only the settings are global, your opponents come from all over the world as well!
Features of Iron Sight
Free action: In order to enjoy Iron Sight and its exciting fights you only need an account with Gamigo, and the game client!
Fantastic visuals: The visuals in Iron Sight will knock your socks off! And this doesn't even require top hardware.
Huge choice of weapons: Choose your favourite weapon from over 100 weapons, and complement it with drones.
Beauty for your game avatar: You can customize not only your weapons, but also your game character according to your wishes.
Fights around the world: The scenes in Iron Sight will take you all over the world—from the desert to the Arctic!
Conclusions about Iron Sight
The free first-person shooter Iron Sight is simply top material for all shooter fans! At the moment the game was still in the beta phase, but it still impressed us. The game will be officially released in the course of 2018—so we can happily anticipate many more contents. The main strengths of the game are the good graphics with low requirements, and the huge weapons arsenal. It can totally keep up with competitors such as Counter-Strike or Call of Duty. If you enjoy an action-filled day on your PC, check out Iron Sight