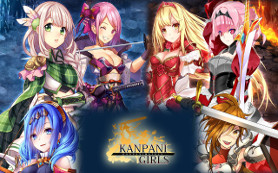 | | |
| --- | --- |
| Graphics | |
| Fun Factor | |
| Handling | |
| Community | |
Kanpani Girls – Role-playing action for the browser!
Role-playing browser game – Where have we landed? The free browser game Kanpani Girls will take you from Japan on a journey to an alien world! Here you'll have to destroy frightening monsters and find a way back to Earth. Read on if you're brave enough to face the danger that paves the path back to Earth.
Official trailer Kanpani Girls
The game concept Kanpani Girls
In Kanpani Girls you'll set off on an adventure in an alien world! Players are catapulted from Tokyo directly to a world full of evil monsters and wild warrior girls. All you have to do in order to take on the fight to make it back to Earth is create a free account, and the round-based fights can start directly in your browser! As soon as you arrive in the alien world you already meet the first warrior girls. You'll tell them about your story and your intention of making it back to Japan. As helpful as they are, they'll offer their support! Your main idea is to build your own mercenary company and to collect the necessary information and resources for your journey back home with the help of your girls. This is how the exciting adventure of Kanpani Girls starts!
Different girl classes:
On your journeys as head of your own mercenary company you'll meet different classes. Many warrior girls will join you either voluntarily or they'll be ready to sacrifice their lives for yours after you've fought each other! The mercenaries' skills depend on their character class. There's a total of eight different classes! You can choose from Cleric, Archer, Rogue and Mage among others. This way your ladies will have a broad range of skills, and your role-player heart will have plenty of reason to flutter. A group of five girls will accompany you on your adventures, and you'll have to decide with which five of the eight character classes you work best!
Tactical fight system:
As CEO of your own company you don't have to get your own hands dirty, of course! In the round-based fights in Kanpani Girls you'll be backing your mercenary girls only with the so-called 'CEO-attack'. This attack is particularly powerful, and usually it can turn entire fights in your favor. But beware! The stronger your CEO-attack, the shorter it lasts. Moreover, you can't give your fighters any orders during the fights. It might seem strange at first that your fighters act completely of their own accord. But the longer you play Kanpani Girls the more you will realize that it's exactly this feature that needs the most tactical skill. How do you assemble your team? Where do you put your Cleric – in front of the Warrior or behind her, or maybe by the Archer's side? It's the way you make these team arrangements that will determine whether you'll be victorious or not!
Your own company headquarters:
Any serious mercenary company has to have a base! In Kanpani girls you'll use it to assemble your teams and to plan your next moves. You have the possibility of erecting and furnishing four buildings in your quarters. For example, you'll use the smithy to manufacture and improve new weapons and armory for your girls! The PR-building is for recruiting new mercenaries and therefore keep your lines thick. You'll collect resources for new buildings and strong armory in your warehouse. In order to increase the efficiency of the buildings you can also assign your fighters work at headquarters!
Beautiful anime visuals:
The Japanese developers from Nutaku Games stand out thanks to their innovative game mechanics and the beautiful anime style! All mercenary girls look great with their colorful hair and unique outfits. The effects during the exciting fights are also super well done and integrated in the game. But what really blew us away were the powerful 'CEO-attacks'. The many different monsters in Kanpani Girls ensure lasting gaming fun and that all that fighting never gets boring!
Features of Kanpani Girls
Completely free:

No annoying subscriptions or expensive acquisitions! All you need is a free account in order to bring the adventure to your browser!

Different mercenary classes:

Form your team of mercenaries from eight different classes, and use them to balance out your team's strengths and weaknesses.

Tactical fights:

Take influence on the fights by arranging your team the right way on the battlefield. Here's where you show your tactical skill!  

Your own company headquarters:

Plan your battles from your own base, and provide your girls with new gear and weapons!

Great anime visuals:

Enjoy the colorful world of Kanpani Girls in a visually beautiful browser game!
Conclusions about Kanpani Girls
The boys from Nutaku Games brought a real browser hit to the market with the free role-playing game Kanpani Girls! As lost earthling you land in a magical world full of frightening monsters and big missions. On your way back to your own world you'll become the head of your own mercenary company full of beautiful warrior girls that would sacrifice anything for you! These fighters have their own stories to tell, and they become more and more powerful in time. The tactical fighting system is a real challenge even for seasoned role-players! The beautiful anime visuals round the game perfectly. Beautiful landscapes and warrior girls are waiting for you. And to top the whole thing, Kanpani Girls is completely free-to-play – so why not start on your journey back to Earth right now!