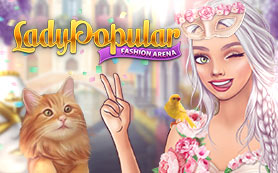 | | |
| --- | --- |
| Graphics | |
| Fun Factor | |
| Handling | |
| Community | |
Lady Popular – The Fashionista Amongst Browser Games
Online Fashion Game – Ladies of leisure take note! The free-to-play online fashion game Lady Popular – Fashion Arena transports you to the world of glitz and glamour. Discover and experience the perfect life of luxury, wear the coolest designer clothes and see how you compare with other models. The game, developed by XS Software Games, lets you create your lifestyle paradise from the comfort of your own home. Are you still asking yourself whether Lady Popular is the right game for you? Read our report to find out more, as we put the game to the test.
Official Trailer
Game Description
The doors to the world of glamour are finally open to you. In the free-to-play online fashion game Lady Popular, you take on the role of a young model new to the city and looking to find their way to the top. Your job is to make that happen. However, climbing the career ladder isn't the only thing that sets Lady Popular apart from the rest of the competition. We've listed a few other important features below.
Personal Style
As you would probably expect from a game about fashion, there are an endless amount of options available to you in order to create and dress your model based on your personal preferences. This includes choosing hairstyle and skin colour, different face contours and even colourful, yet also crazy tattoos. You'll even have a massive selection of designer clothes to pick out and if that still wasn't enough, there are of course a large assortment of accessories and shoes to browse through. Everyone will be able to design a good-looking model to their own preferences. So go impress on the catwalk with a style you can be proud of!
The Modelling Business
You're able to gauge your own popularity next to other models by entering into duels with each other and seeing who comes out the victor. You're also able to train the different aspects of your popularity in order to increase your chances of victory. The more successful and popular you become, the greater your chances are of ending up on the cover of a magazine or newspaper. You can even take part in competitions with other models to see who has the best taste in style and fashion. Conquer the supermodel world and show everyone that you are the most popular of them all!
Glamorous Lifestyle
Having a luxurious lifestyle doesn't just mean owning the best clothes and make-up, but also having an exclusive apartment. You'll even get to design the interior to your liking, while also adopting a cuddly pet, trained and styled of course, to be by your side at all times. Don't forget that you'll need a sweet, young and successful boyfriend as well, who you can call up and go on romantic dates with. By interacting with him, you'll be able to collect valuable jewels, which can then be used to buy clothes and jewellery. And if you get tired of him, simply show him the door and find a new one – they won't even get mad.
Special Features
Individual Style: Design your model to your own personal taste. Choose haircuts, crazy hair colours and tattoos to boost your appearance
Fashion Victim: Collect the coolest outfits and the most fetch accessories. The selection is truly endless
Fashion Arena: Test your beauty and popularity against other models, conquer the catwalks and take magazine covers by storm
Flirtation Overload: Snap yourself a cute guy and get flirting. Let him help you to the top!
Discover the City: You can find everything your heart desires in the city. Shopping centres, beauty salons and even pet shops!
Luxury Apartment: Decorate your flat with individual designer furniture
The Bottom Line
Girls, your dreams are close to becoming reality! Whoever has had a moment of wanting to lead the life of Carrie from Sex and the City will feel right at home in the free-to-play online fashion game Lady Popular. Everyone can find their own dream style thanks to the sheer range of options available for creating your character. There are a countless number of outfits, furniture, hairstyles and colours to choose from in order for you to get your own individual look. The game might not be quite so easy for guys to get into but that shouldn't stop them from having a go. Winning your first fashion competition will put a smile on anyone's face, regardless of whether you're a boy or a girl.