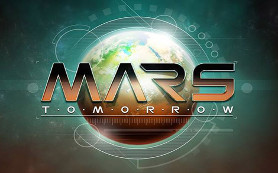 | | |
| --- | --- |
| Graphics | |
| Fun Factor | |
| Handling | |
| Community | |
Mars Tomorrow – Colonizing the red planet
Space building browser game – Welcome on our neighbour planet! The free browser game "Mars Tomorrow" is really something special in which you run your own Mars colony. Read on to find out how our own colonizing ambitions turned out!
Official trailer Mars Tomorrow
The game principle of Mars Tomorrow
Just like the name foreshadows, "Mars Tomorrow" is about colonizing the red planet. In order to prove yourself as leader of a Mars colony you have to first create an account on the website. Once you've done that, you get to choose your server. At the time we tested out the game there were four different servers, namely four Mars colonies. As soon as you've landed on Mars, the cheerful small robot T.E.D. greets you! Little T.E.D. is your mentor as well as your trusted companion. You'll need all the advice you can get in the beginning. The interface of Mars Tomorrow is complex, but thanks to the tutorial you'll understand the most important processes fast and intuitively. Then, nothing will be left to stand in your way to creating a new home for humanity!
Excellent visuals:
In matters of presentation Mars Tomorrow really has things to show! The planet surface looks realistic – clouds of dust, mountains and lonely buildings dominate the picture. We really felt we looked at the Mars colony through the eyes of a futuristic drone or something of the kind. When we entered the habitat we were further impressed by the great details such as transporters moving in the background. No one can deny that the many wonderful details create a solid play atmosphere!
Trade and transport:
In Mars Tomorrow you're not the first person on Mars, of course. Many resources have already been exploited, and there are many different colonies. The colonies' goal is to grow, and advance the terraforming. But growth requires many resources, and the distances on Mars are also something to consider. Luckily you have a lot of transporters at your disposal in your vehicle fleet! Every colony has a different demand for certain raw materials – if you organize your transports in a clever way, you can earn quite a few Mars dollars!
New technology:
In order to keep your transporters upgraded you can't neglect research at any point! There are transporters that are suitable for all types of resources – but these aren't specialized, so they don't have the best transport characteristics. Therefore, it might be a good idea to focus on transporting gases, for example. This focus enables you to build big and fast trucks for gas transport. The danger with a specialized vehicle fleet, on the other hand, is that resource prices fluctuate.
Play with friends:
It can get pretty lonely on Mars  – only red dust and competition as far as the eye can see. Luckily, the guild function enables you to play together with friends, and to exchange ideas and experience! It's always very helpful to be able to rely on a guild friend. Use the tips and plugins for your transporters to become stronger together! Another thing worth mentioning is that guilds can only have 16 members at the most, so decide well who you want to have on your team.
Features of Mars Tomorrow
Play for free:

create an account easily and for free on the game website, and then land directly on Mars.  
Excellent visuals:

No exaggeration: Mars Tomorrow is one of the most visually beautiful browser games we ever tested out!
Trade and transport:

Contribute to the growth of the Mars colonies with your transporters, and provide them with the bitterly needed resources.
New technologies:

Decide on which raw materials you'd like to focus: solids, gases or liquid.
Play with friends:

Come together with your friends and start your own guild – up to 16 players become a strong alliance!
Conclusions about Mars Tomorrow
Mars Tomorrow is a browser game by Game Fabrik, and it's a really unusual but fantastic one! Visually it's without question one of the best browser games out there. The setting is also a first for us – our own Mars colony? Super! In the beginning we felt a bit lost on Mars, but soon our transporters provided the most important colonies with oxygen and lead. You earn Mars dollars, your vehicle fleet grows, and you become a powerful trader. If you feel like trying your luck on the red planet, go ahead and create a free account right away!