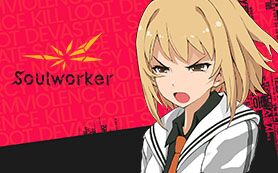 | | |
| --- | --- |
| Graphics | |
| Fun Factor | |
| Handling | |
| Community | |
Soulworker – Gripping action for anime fans!
Anime/Action-MMO – We had the chance to sneak a peek at the brand new, free-to-play anime blockbuster 'Soulworker'! This game is new, but has already made a name for itself on the Asian market. Read on to find out what exactly makes 'Soulworker' a hit, what are the features that we liked best, and much, much more.
Official trailer Soulworker
The game concept of Soulworker
The story in the free MMO Soulworker is simple: war, destruction and despair plague the Earth. As if that weren't enough, a portal has been opened, through which servants of darkness can travel into our world. This is where we come into play. We slip into the skin of one of the six main characters, and we try to stop the evil! One thing people might complain about is that the main characters are set-in-stone, so to say, and there's little room for personal adjustments. But, to be honest, that didn't bother us in the least, especially since the developers tell the backstory of every character in short video episodes. So your avatars might not be customized according to your wishes, but they are vivid, and well-integrated in their world. You can strengthen your characters by fighting your way through dungeons and completing quests for different commissioners. You'll also find other classic MMO contents, such as traders, a bank system and smithies.
Great anime style:
What's particularly eye-catching about Soulworker is the visual implementation, namely the style. As we're used from the Asian game-developing world, the characters, the surroundings, and even the monsters are especially colourful and flashy. So if you once enjoyed watching anime, you'll fall in love with design of Soulworker at first sight. But not only the visuals are great, we can say the same about the animation of fights, magic-casting and other actions!
Particularly innovative fighting system:
If we had to describe the fighting system of Soul Trapper in one word, that word would be "fun". Each main character has their own range of special skills—including their very own fighting style! You control your hero from third person perspective (so you're basically behind the character), so you can sidestep enemy attacks, for example, you can jump in the air and attack your enemies from above, or you can simply execute powerful combo attacks. Exactly because of the fact that playing this game involves more than just hitting a button over and over again, playing Soulworker is smoother and crazier than many of the competing titles.
Character growth and dungeons:
Ever since World of Warcraft we've been waiting for an MMO with different instances, like for example the possibility of exploring dungeons. Soulworker totally fulfilled this wish. You'll spend a big chunk of your time in dark, instanced dungeons. Here you'll be facing the dark bosses, hopefully you'll send them back to where they came from, and for that you'll be rewarded richly. Combined with the fast fighting system, even repeating the same dungeons will be new fun.
Play with friends:
Another main ingredient for a great MMO experience is the possibility of sharing the fun with friends and other players. Soulworker offers everything your heart might desire in this sense. There is a guild system that offers its own progress options, as well as a classic group system (if you're not part of a guild yet). Doubtlessly, it's much more fun to face the many monsters with someone to have your back! Moreover, you can take part in exciting player-versus-player fights. Besides the story and the dungeons there are a great many other things to do, so things don't end here.
Features of Soulworker
Completely free: Just create a game account, load the game client, and you can already enter the world of Soulworker—don't forget to buckle up!
Great anime style: Anime fans will feel right at home from the first seconds in the game!
Innovative fighting system: Just hit a key and wait for things to happen? Not in this game! Here the players' skills will directly influence the fight.
Character growth and dungeons: Explore and master the dark instances of Soulworker alone or together with your friends!
Play with friends: Come together with other players and form powerful guilds—why play alone?
Conclusions about Soulworker
Firstly, we have to say that we tested out this free MMO while it was still in the beta phase. This means it's very probable that Gameforge will add much more content, but the game is a whole lot of fun already! The fast, wild fights will demand much from you, since no fight is like the other. Of course, you can also count on classic elements such as a crafting system or beauty items. Anime fans especially will love the visuals—but even if you're an anime grump the game mechanics can really win you over. Just create an account, and check out Soulworker yourself—the world needs you.