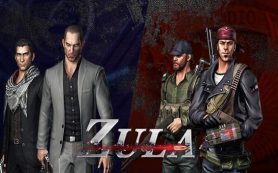 | | |
| --- | --- |
| Graphics | |
| Fun Factor | |
| Handling | |
| Community | |
Zula – Crisp, clean and deadly
Shooter – These days we got our hands onto something special. A free to play first person shooter that promised us a hot mix between tactical action and fast-paced gunplay. A welcome change from the games we usually review. We went in deep and gave this game called Zula an extensive try. Here is our report.
Official Zula Trailer
Game Concept
Zula is best described as an explosive mix between a tactical shooter like Counterstrike with explosive and fast-paced action segments like you have them in Quake. You take over the role of one of a handful of specialists trying to overpower your foes in several unique game modes. Select your loadout of unique guns and be prepared for a shooter that doesn't allow any daydreaming if you want to end up on the top of the food chain in Zula.
A deadly mix between tactical gameplay and explosive action:
Zula is a game that has action written all over it. Our first few matches were an absolute mess of explosions, gun shots and blood splatters everywhere. Needless to say that we did die a lot. After some time though we eventually got the hang of it and really came to understand the way this game walks on the thin line between absolute mayhem and tactical gameplay. Furthermore and that's something we really enjoyed – the gunplay is absolute on point. The controls are snappy, clean and really allow for players to master their skills without having any roadblocks like clunky controls, from securing a potential frag. Each match had it all: Flanking on enemy positions, pinning enemies down with heavy weapons fire or simply spraying your opponents, guns blazing with submachine guns.
Guns, guns, guns:
If you have to make a statement, bring a gun. If you really have to make a statement, bring a bigger gun. And if you play Zula, well, then you better bring all the guns you have. This game is heaven for all the gun-nuts out there and we mean it. Dozens of different firearms, ranging from semi-automatic handguns, revolvers, submachine guns, shotguns and up to high-powered sniper and assault rifles. But this is not where it ends. Each gun has unique characteristics and can even be modded for quite the extra punch or utility on the battlefield. Scopes, silencers and what not – you name it and this game has it. So dive in deep and equip yourself with some of the most lethal guns that have been invented and give your foes a taste of some extra bitter medicine.
A game for PvP-enthusiasts:
If you love a competitive and unforgiving first person shooter with a high skill ceiling, then look no further. Zula might be exactly what you're looking for. Not only does this game have several different game modes, including classics like Team Deathmatch or Capture the Flag but it also provides ranked tournaments every now and then in which you can compete with the best of the best. Not only will you earn fame and glory but also pretty expensive rewards and currency that you can invest into new guns, new upgrades and whatever is necessary to stay on top of your competition.
Special Features
Free-to-play: Just sign up once and you are good to go. Zula is absolutely free-to-play.
Explosive action: Jump right into the action and compete with other players to find out who the true dominator in Zula is.
Guns, guns, guns: Zula is a dream come true for anyone who loves to hoard tons of guns in video games.
PvP-Focused: Engage in ruthless and unforgiving PvP-scenarios and take on your foes with everything you got.
The Bottom Line
In terms of gunplay, arsenal and overall gameplay, Zula is definitely a neat first person shooter. It has all the game modes, maps and tools to play around with and shines its brightest when you are in the thick of it. This game breathes action and must be twice as compelling for those that always enjoy some competition. Even better when you bring a few friends and take on an arranged set of other players, possibly even in a tournament environment. Those are held pretty regularly in Zula provide another strong argument for those that would really to commit to a game. Give it a try, you will most likely enjoy it.