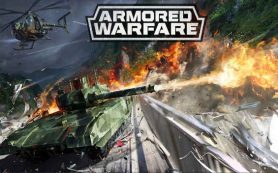 | | |
| --- | --- |
| Graphics | |
| Fun Factor | |
| Handling | |
| Community | |
Armored Warfare – Amazing Tank Action on your PC!
Online Tank Simulator – Prepare yourself for battle! Armored Warfare has just been released and believe us when we say it's a real treat for fans of tank on tank action. That's not even mentioning the fact that it's completely free to play! So close up your hatch and get ready for our report from the merciless battlefields of Armored Warfare.
Official Trailer
Game Premise
Once you've created your free account, you won't have to waste any time getting stuck into the tank on tank action! Your garage is the first point of call. This is where you can choose your favourite tank accessories and put together your crew. Armored Warfare gives you the chance to fight against other players as well as against NPCs. Missions against NPCs are particularly good for new-comers and those wanting to get familiar with the controls. You'll also have the option of completing various mission objectives together with other players or friends. Once you've become comfortable with the controls, it's time to get stuck into the PvP carnage. As you progress through the game, you'll be able to unlock more and more powerful tanks, all while gaining a reputation for being a badass!
Different Equipment
Tanks come in all shapes and sizes and Armored Warfare has really worked hard to provide a range of diverse vehicles to fit your gameplay style. Do you spend most of your time in the frontline? Then you're probably best sticking with the classic tanks. These vehicles are pretty much your jack of all trades and can give as good as they get. If you're rather the classic sniper type, then you definitely should consider the tank hunter. These tanks aren't particularly manoeuvrable but are able to destroy their enemies from a distance! We're talking about being able to completely remove your enemy from the battlefield from across the map, without them having the faintest idea. There are a total of 5 different vehicles to choose from, which means everyone should find a vehicle best suited for them.
Amazing Battlefields
The developers of Armored Warfare have really succeeded in creating an amazing range of diverse venues for the merciless battles. You'll never get bored with the locations as you'll constantly switch from tropical regions surrounded by palm trees and beaches to the cold depths of Russia. The maps, however, aren't just treats for the eyes. Every single battlefield has their own unique characteristics, such as differing routes, altitude levels and obstacles. This means that you'll need to get to know each individual map before you can really sit down and start strategizing.
Upgrade your Tank
Armored Warfare allows you to not only buy completely new tanks, but to upgrade the ones you've previously purchased. This means you'll be able to improve your tank's armor, motor and other aspects. But that's not everything! Armored Warfare sets itself apart from the competition, like World of Tanks, thanks in no small part to the special equipment on offer, such as a smoke grenade launcher and magnesium flares. These cool features enable you to obscure your opponent's vision making it harder for them to get to a specific objective. The introduction of this modern technology made battles even more challenging and nerve-racking and we can't wait to experience more!
Battalions
Many players within Armored Warfare join together in so-called Batallions in order to fight with allies against NPCs or other players. Up to three players are able to join together at the beginning. As you progress through the game and are tasked with completing more and more difficult missions, this number rises to five, and we highly recommend that you don't start these missions until you've reached that number. Battalions function as big communities for players and can be compared in part to your classic 'clan.' Up to 100 players can join together under one name and this means you should always be able to find help and support from your fellow players at any time.
Special Features
Completely Free-to-Play: Create your account, download the game and you're good to go!
Modern Tanks: A lot of other tank simulators focus on the Second World War, but Armored Warfare gives you access to current and up-to-date tanks from the U.S. Army
Varied Responsibilities: Choose your game style and how you want to play. Are you more artillery focused or do you want to get stuck into the action from the frontline?
Brilliant Battlefields: Aside from the brilliant visual effects, each battlefield is unique meaning you'll need to vary your tactics
Great Upgrade System: Improve your motor, launcher and armor. There's even a chance to buy special equipment like a smoke grenade launcher!
Battalions: Armored Warfare lets you experience the action together with friends!
The Bottom Line
The free-to-play tank simulator Armored Warfare really bowled us over! We were really gripped by the endless tank battles and the diverse range of tanks on offer. We quickly found ourselves getting used to the controls and swapping our small tank for a bigger calibre. What really set Armored Warfare apart from the competition were the specialised equipment and modern tanks, that weren't just replicas from the Second World War! The diverse number of battlefields you can explore with your friends really were just the icing on the cake. So what are you waiting for? Start your engines, load up your launchers and become one of the most feared tanks in Armored Warfare!
Photos of Armored Warfare