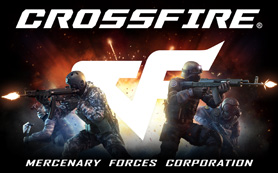 | | |
| --- | --- |
| Graphics | |
| Fun Factor | |
| Handling | |
| Community | |
Crossfire – Shooter action with a personal touch!
MMO/First person shooter – Watch it! Enemy fire! The free first person shooter Crossfire gives you suspenseful fights between two rivalling soldier groups. Fans of games such as Counter-Strike and Call of Duty will surely hurry to get their hands on this one! Read on to find out what makes Crossfire such a good shooter.
Official trailer Crossfire
The game concept of Crossfire
Crossfire is a free tactical shooter developed by SmileGate, a Korean studio. Many of you might ask yourselves how come a Korean studio decided to approach a genre that we're already used to from games such as Counter Strike. Well, the answer is that Crossfire simply adds a lot of new spice to a rather dusty genre! Many play modes and a really cool reward system are only two examples of the innovative approach that SmileGate took towards the shooter genre! Keep reading to find out what else to expect from Crossfire and its most important features.
Diverse play modes:
Many competitor titles such as Counter Strike offered two play modes that players understood quickly, and little more. The developers of Crossfire, on the other hand, came up with many funny and diverse play modes. Those who enjoy fighting zombies can take their friends and go Bioharzard mode, slaying loads of undead! The Predator mode, on the other hand, is Player-versus-Player, and some can play the predators who hunt mercenaries using very strong weapons and skills. All this makes Crossfire a truly special shooter whose many play options are an incredible lot of fun in the long run! During our test we went through ten different play modes in Crossfire, and a few more will certainly be added.
Loads of weapons:
One thing Crossfire sure doesn't lack is weapons! The many firearms are divided into the categories main weapons, ancillary weapons, melee weapons and grenades, respectively throwing weapons. These main categories are at their turn divided into subcategories such as shotguns, machine pistols or heavy machine guns. Each one of these subcategories includes surely as many as 100 different weapons with excellent skins and different add-ons! There are grenades with smiley-skin and gold-plated combat axes and many more unusual weapons! Players obtain these weapons by getting very good results in their missions, or they buy them in the in-game shop. Those with a hang for collecting items will have a lot to do in Crossfire!
The playable characters:
Crossfire turns away from the beaten path in terms of characters as well, at least partly. Besides the known special commando units such as GSG9, SWAT or SAS there are many more special groups in the game. The DX, for example, is a troop consisting only of women, and it specializes in fighting the so-called Nano-ghosts. The European Task Force is another example of an invented special unit whose goal it is to prevent attacks in Europe. So Crossfire doesn't offer only a whole lot of playable weapons, but also true diversity with over 20 different commando units and fractions!
Low requirements:
We actually consider the rather outdated-seeming graphics of Crossfire a special feature. The game client is surprisingly small, and the low requirements make Crossfire playable on almost any PC! This is why Crossfire has a huge player base, and the servers are always full. We found it refreshing not having to do with yet another game developed for the newest hardware, and discovering that Crossfire is a game that focuses on gaming fun instead of the best light effects. If you want to try out Crossfire, you can easily do so without having to worry about expensive graphics upgrades!
Features of Crossfire
Completely free: All you need in order to bring the action to your PC is signing up and downloading the slim game client from the website!
Diverse play modes: Play on many maps and in different modes against zombies, for example, or carry out infiltration missions behind enemy lines!
Loads of weapons: Get good results, and unlock better weapons with many cool skins and useful add-ons as you go!
Playable fractions: Slip in the role of different special commando units, and meet the special forces of the entire world.
Low requirements: Crossfire works on almost any computer! This way you don't have to worry at all about expensive hardware!
Conclusions about Crossfire
The free tactical shooter Crossfire by SmileGate made a real mix of the shooter world! What we liked most were the many different play modes. Get three of your friends, and fight your way through endless waves of zombies. Of course, there are also classical play modes such as Team-Deathmatch. Those who play well are rewarded with many points, and they can unlock more and more weapons of the huge available arsenal. Those who loved games such as Counter Strike should definitely try out Crossfire! You'll find roaming the servers of Crossfire for quite a while, completing our weapon collection!