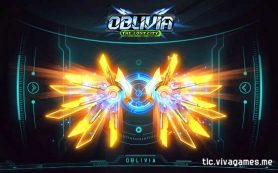 | | |
| --- | --- |
| Graphics | |
| Fun Factor | |
| Handling | |
| Community | |
Oblivia – The Lost City
SciFi Browser RPG: "The Lost City" is a large online multi-player Science Fiction browser game with RPG elements. In game, player can complete quests, instances, and participate in the activities to obtain gear and item to enhance BP, and finally save the whole city. This game encourages player's positive attitude and team work spirit.
Official Trailer
Game concept
Before starting our adventure, we should choose the gender of our principal hero, who can be a female or a man. In this new game: Oblivion: The lost city, we enter into the dangerous city of Oblivia, the dark and decadent urban site in ruins, where we will need to fight with the innumerable enemies in order to advance in the game. At the beginning of 22nd century, because human destroy the natural environment, the Earth's resources are consumed fast and countries all over the world are in energy crisis. Finally, world nuclear war breaks out after several border conflicts. Nuclear war created devastating destruction to the human world, which reduce 2/3 of the surface oxygen's purity. Some victorious nations who master the most advanced technology unite and build human's last big city, Dominus.
Beat other!
Defeated nations with insufficient resources and some rascals are to be ruled by Dominus, and the defeated nations become its dependent territories. When Dominus consider how to live and rule, a new energy which influences the whole human's destiny comes into being. The new energy is memory energy, which can be obtained through reading human's memory. It can not only solve the current problem, but also can be used to rule people.
Stay alive!
Oblivia produces oxygen to provide for itself while brainwashed by Dominus to offer memory energy, just like other dependent territories. People in Oblivia live a steady life under the memory control of Dominus. They believe that the city where they live is the last safe place in the world. 20 years ago, a large uprising against Dominus broke out; although it ended up with failure, a small number of people preserved the memory at that time through memory fragments. Recently, memory energy offered by Oblivia to Dominus is stolen again and again. Dominus sent several spies to sneak into Oblivia to investigate secretly, and a secret plot is unveiled gradually…
Special Features
Top-quality: Cool browser graphics with great special effects.
Different characters:  Unique character classes with individual abilities and armour
Diverse Tasks: Countless  quests with an exciting storyline
RPG Game: Build your own city, recruit soldiers and defend against other players
Teamplay: Join forces with other players and play cooperatively in the campaign or dungeons
Competition: Show off your forces and knowhow in action-packed PvP battles in the arena
The Bottom Line
The free-to-play browser game Oblivia really has a large number of different features. Thanks to different classes as well as the ability to build up your own city, the game has really managed to combine the coolest features of two genres. The storyline is also particularly exciting for a browser game and provides an intense gaming atmosphere. We had a lot of fun playing the game and highly recommend that you give this one a go