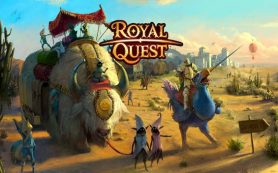 | | |
| --- | --- |
| Graphics | |
| Fun Factor | |
| Handling | |
| Community | |
Royal Quest – Beauty is in the Detail
Fantasy MMORPG – The developers of the King's Bounty series did it again. With the release of Royal Quest, a brand new free-to-play fantasy MMORPG has hit the market. It sure is no easy task to live up to the standards of its predecessor and therefore Royal Quest immediately caught our attention. We played it and took a close look at a game that has huge footsteps to follow in. But is it any good? Check out our review and find out.
Official Royal QuestTrailer
Game Concept
The core concept of Royal Quest is that of a classic MMORPG. You begin your journey with a few coins and some basic gear on your character. While you progress through the game, you complete quests, defeat hordes of monsters and acquire wealth and better equipment. As character and item development are the bread and butter of almost any MMORPG, the game will give you countless opportunities to get your hands on some shiny items, even long after you already hit the maximum level of Royal Quest.
Intriguing Class-System:
Currently there are four different classes in Royal Quest: Warrior, Mage, Rogue and Archer. If you think that's rather boring or not very imaginative, then you should definitely play until you hit level 20. Once you hit that level, each class branches out into two separate trees each with their own specific skillset and abilities. Rogues for example, get the opportunity to either become nimble thieves or turn into deadly assassins – depending on what type of gameplay you prefer. Splitting up the classes into sub-classes really gives you the freedom of choice to adapt and play the game the way you want to.
Beautiful Graphics and Details:
Whereas some free-to-play titles suffer from poor graphics and unimaginative retexturing of old content, Royal Quest really sets a high standard. The first time you enter the world of Royal Quest, you will really notice the difference compared to some other free-to-play titles you might have played. The graphics are crisp and the sound and music are decently made and really add to the overall atmosphere. Especially after exploring the initial areas, you will start to notice that there is a huge variety of monsters and enemies each with different loot tables, animations and sounds.
PvPvE Dungeons:
As you progress through the game you will come to a point where you have to join a dungeon to finish some quest or just because you are looking for some decent equipment. Doing a dungeon is a dangerous thing though – not only because of the monsters lurking in the shadows, but also because of other players. Normally you group up with a bunch of friends or other players and finish some instance or dungeon without anyone having the opportunity to interfere – in Royal Quest things are different. PvPvE dungeons break the rules entirely and even though most players are more interested in completing a common goal, it is always a good idea to keep an eye out for hostile players.
Special Features
Free-to-play MMORPG – Royal Quest is completely free-to-play. After a one-time sign up you are good to go
Intriguing Class System – Choose between Warrior, Mage, Rogue and Archer and specialize your character at level 20.
Beautiful Graphics and Details – Immerse yourself into the world of Royal Quest. Beautiful graphics and a huge variety of monsters set a new standard for current free-to-play titles.
PvPvE Dungeons – Always be on your guard when you explore an unknown dungeon. Not only monsters but also hostile players might be watching from the shadows.
The Bottom Line
The free to play fantasy MMORPG Royal Quest really is a beauty. For a free-to-play title, the game really sets a new standard in terms of graphics and attention to detail. The huge variety of monsters and the neat soundtrack really help with the overall immersion and even after spending hours in one zone, boredom seems so far away. You will notice that the developers really put some thought into this game, especially when you recall the class system with its branching trees or the countless other features like PvPvE dungeons, as well as many other things you gain access to as soon as you have hit the late game. Therefore Royal Quest is definitely worth a recommendation for any dedicated MMORPG fan.