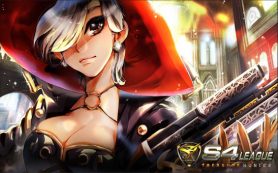 | | |
| --- | --- |
| Graphics | |
| Fun Factor | |
| Handling | |
| Community | |
S4 League – Sexy yet Brutal!
Online Anime Shooter – The free-to-play online anime FPS S4 League, developed by Aeria Games, wastes no time in letting you into the action after you've downloaded the game and signed up via the one-step registration process. But there's more to this game than just fighting. The game places a lot of focus on being able to create your own characters to your own personal tastes with outfits, weapons and items, which is something typical for the anime genre. Even the anime style graphics have been developed in both a breath-taking and amusing and adds to the huge in-game enjoyment factor. This game is definitely a must for any fan of FPS and Anime games in no small part to the action and fun you'll have throughout. But there's even more you can expect to see. Find out more in our report below.
Official Trailer
Game Description
For those waiting for something special to hit the FPS genre, you're in for a treat. S4 League delivers a whole range of unique elements you won't find anywhere else. The whole game has been developed with uniqueness in mind. Aeria Games has managed to combine amusing elements from anime games with the most important FPS attributes and the game's futuristic and comic book design fit perfectly together.
Ten Unique Game Modes
You have the chance to either play online together with your friends or with other players in new and exciting game modes. For example, asides from the normal and well-known modes like Team Deathmatch and Free-For-All, there are also modes like Touchdown, which resembles a game of American football, only with weapons and more strategy. Or why not try out the unique 'Chaser' mode? A random player is selected as the 'Chaser' at the start of each round and has to try to destroy the entire lobby with buffed up attack and defence stats. Or maybe you can't be bothered to play against other players? Then simply try out the Arcade Mode and force NPCs to their knees.
Individual Characters
You aren't just able to choose an individual in-game name but S4 League also gives you the chance to design your own image to go with it. You'll need to decide if you're wanting to look threatening and dangerous or sweet and sexy? The decision is completely in your hands. Choose the character designs based on how you want to play them and make sure you add some recognisable features so that you're opponents know who to watch out for.
Upgrade your Weapons and Armour
You have the options to improve your armour and weapons in two ways. On the one hand you can activate bonuses with various effects using eSper chips. On the other hand you can increase the levels of your weapons like in most shooters and upgrade it as soon as you've reached the mastery tier. This will then add extra improvements and gives you an advantage over your opponents. Experience makes the masters, or so they say…
Special Features
Ten Unique Game Modes: Play online in 10 different game modes against other players or NPCs and enjoy the completely different atmosphere
Individual Characters: You're unique so make sure everyone around you knows. Create your characters based on your own personal preferences
Use Upgrades: Improve your weapons and armour using different combinations and find out what's best for you
Easy Controls: It won't take you long to get comfortable with the controls so you won't feel frustrated for long as soon as you start the game
Great Graphics: The anime style graphics help deliver a brand new experience for FPS veterans
The Bottom Line
Do you like anime? Or are you a big fan of FPS games? Then the free-to-play online third person FPS S4 League is exactly what you've been looking for. You're guaranteed to have a lot of fun thanks to the endless possibilities and options available to you. But even if you're new to both genres, this game is only education you'll need. The controls are so easy to pick up that you'll be able to play against experience players once you've played through the tutorial or experienced a bit of the arcade mode against NPCs. So do we feel like the game is worth a recommendation? Our answer is a definite yes!